The last 2 years now I have been organizing and creating this event for my community. The Gwinn Lions Club hosts the event and provides volunteers and help where needed. Lots of local businesses donate free food and more. The goal is to provide a free event with free all you can eat hotdogs and hot cocoa.
The basics of the event & rules are…
Race categories and rules:
Kid Singles 1st, 2nd, 3rd place trophies
Adult Singles 1st, 2nd, 3rd place trophies
Teams 1st, 2nd, 3rd place trophies
Renegades 1st place trophy
Best crash 1st place trophy
Coolest sled 1st place trophy
---
Children and adults can race together in the team's category. You can have as many people as you want on your team.
Sleds may only be used once. You can enter a different sled for each category and participant.
Sleds must be 80% or more corrugated cardboard and 20% or less duct tape. Paint is allowed ONLY for decoration of sides and top.
The bottom of sled can NOT be all duct tape and NOT painted.
All participants MUST wear a helmet.
All participants MUST sign the waiver of Liability. Children 17 and under need a parent or guardian to sign waiver for them.
Registration is Feb 20th at 1pm, race starts at 2pm.
Children 12 and under must be accompanied by a parent or guardian throughout event.
All decisions are final. Please keep this a safe & positive event for all.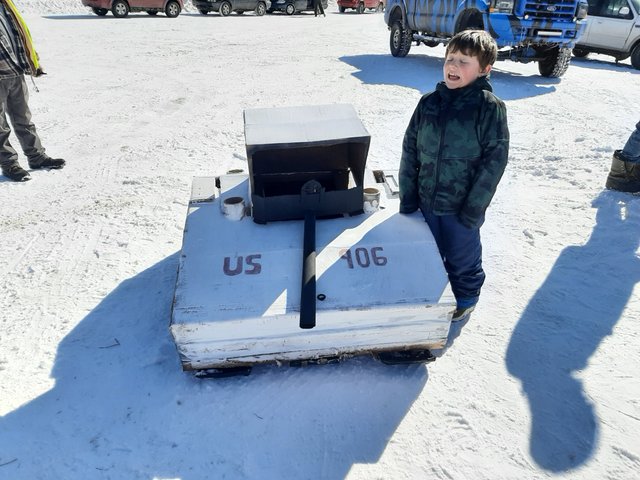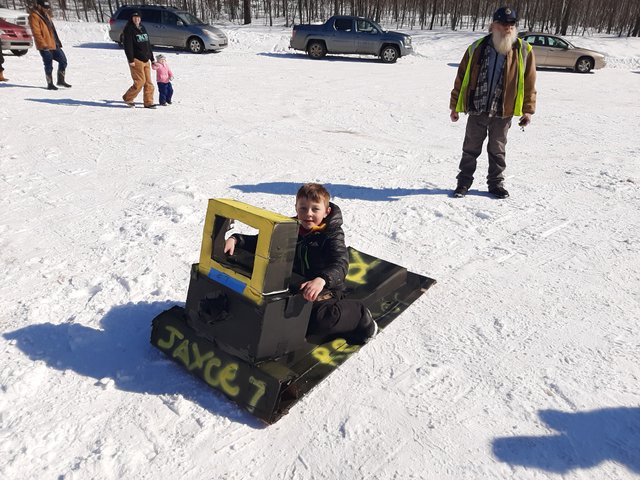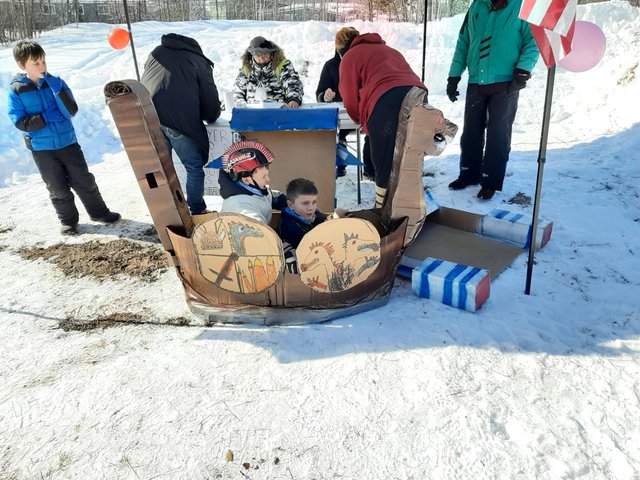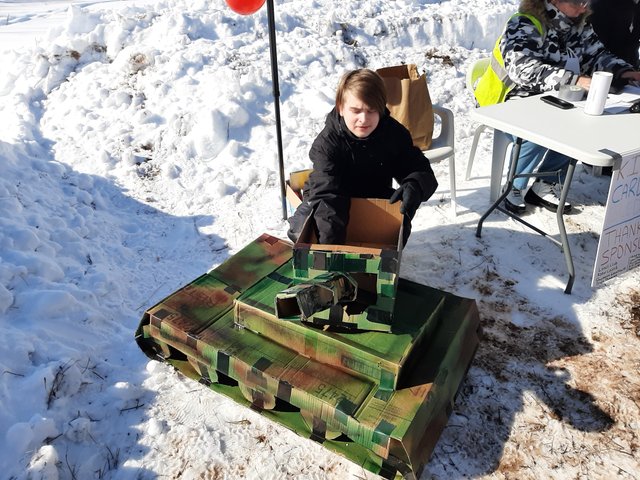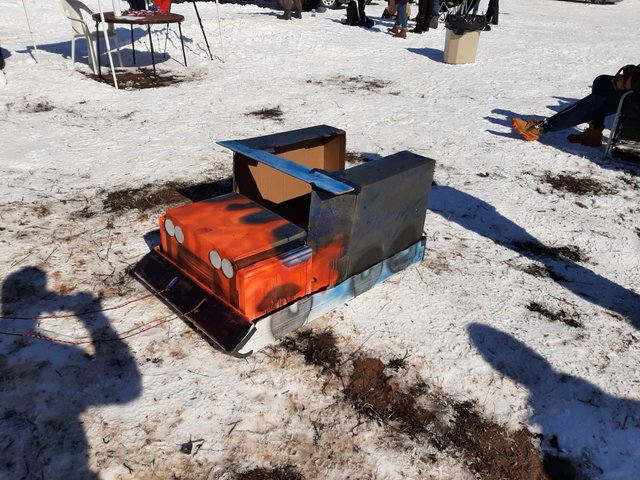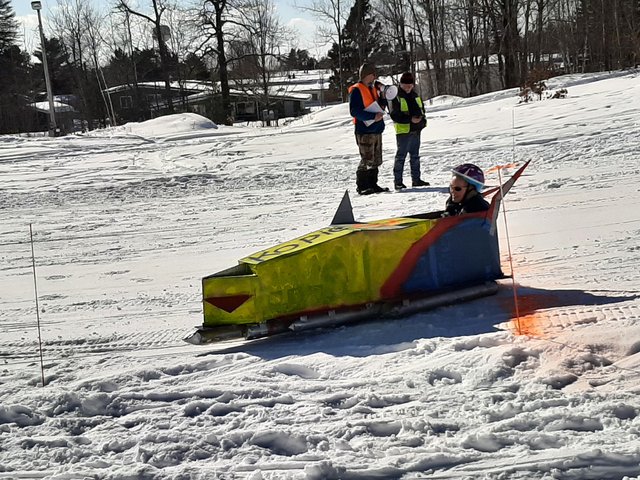 Here is a list of the local sponsors…
Special thanks to our Sponsors:
Marcus Koponen = sled dog rides up hill
Bill Nordeen = write waiver
Dale Throenle = print waiver, cups
Macasau = money donation
Duane DuRay = plowing
John Manninen = plowing
Craig Wilson = grooming hill, table
John Eagle = grooming hill
Sandy Davis = canopies
Peggy Lindeman = buns
Sawyer Village = hotdogs
Lions Club = port-a-johns, insurance, host
Dave Rushford = Salvation Army food truck, tv news
West Branch TWP = ski hill use, advertised
Forsyth TWP = advertised
Forsyth Police = community support
Shannon Greathouse = hotdogs, precooking dogs, making cocoa
Frito Lay = 350 bags of chips
Ryan Lipinski = billboard, advertising, ketchup packets, mustard packets, hot cocoa, round table, chairs, coordinator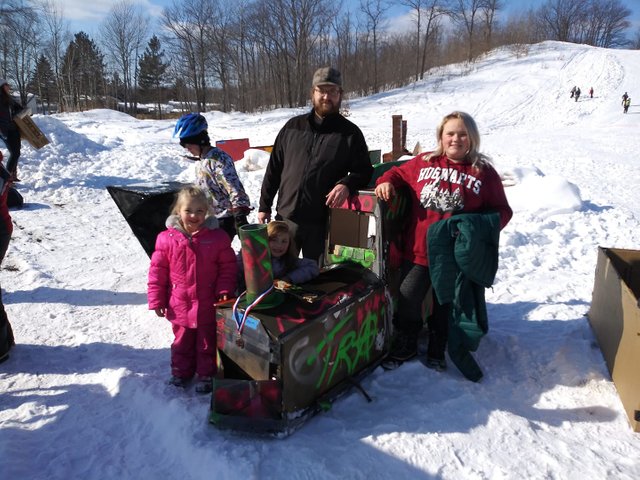 TV6 news, TV3 news, and the Mining Journal all showed and reported on the event. TV6 is shown below. TV3 will be airing a special report tomorrow. Mining Journal will be doing a write up today for tomorrows paper. Here is the link to TV6 report…
https://www.uppermichiganssource.com/2021/02/21/second-annual-community-cardboard-sled-race-kicks-off-at-ki-sawyer-ski-hill/?fbclid=IwAR3-1COHWXL2nMlxbv1_GECJUwHwiT2GlRD_mj6N5S_ESmAqRmGYhF2p-i8
Update: TV3 news report…
I've created a YouTube channel specifically for K.I. Sawyer event posts. You can see a slide show of all the sleds in the race and of the event there.
This is just one of the many events I organize on a regular basis. Most of my events are 100% free to attend and are all non-political and non-religious and open to the entire community.
Hope you enjoyed my article. Thanks for stopping by 😊